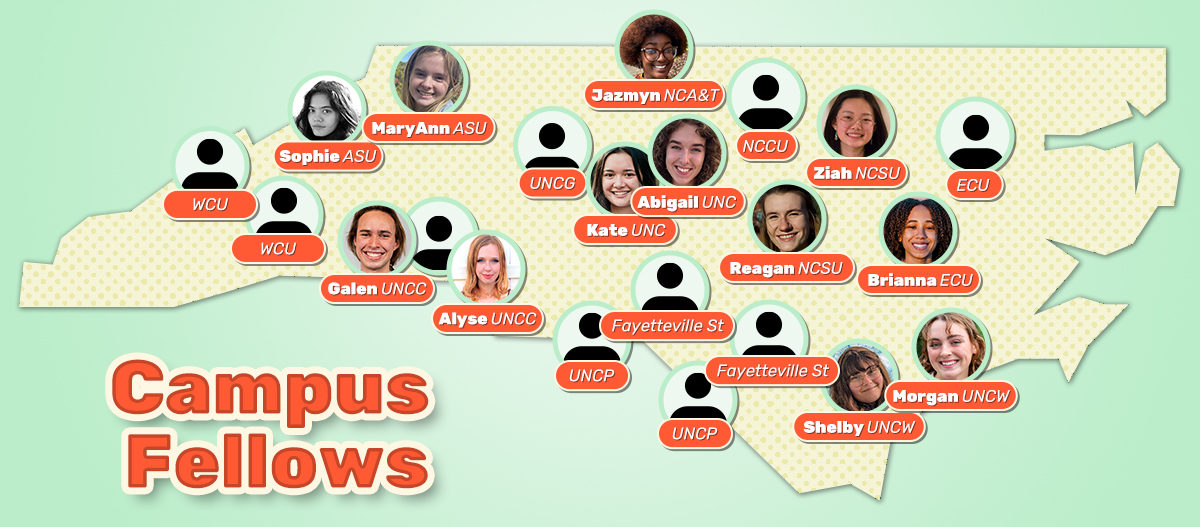 "Being a fellow has been my most valuable job yet. I became way more experienced with creating and sustaining self-guided work, leading presentations, discussions, and tabling efforts…Overall, this experience taught me a lot about advocacy work, non-partisan work, a healthy and happy work environment, time-management, and of course the severity of many different environmental issues in NC and beyond."
– Campus Fellow Alumnus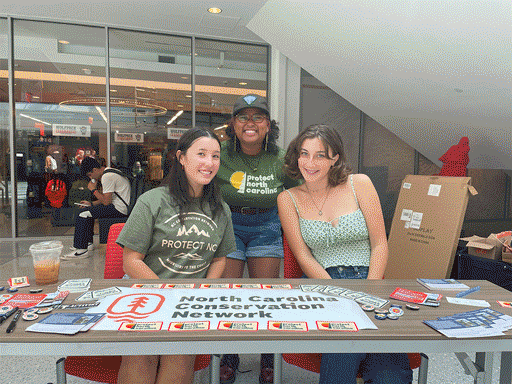 The Campus Fellows program hires college students on North Carolina campuses to organize in their communities and educate their peers about voting in our state's elections. This program enables the Conservation Network to increase our organizing capacity across North Carolina, engage young people in timely issue campaigns, and create a pathway for future leaders in the environmental movement. Each fellow works 6-10 hours per week during the school semester and receives a stipend of $150 per week.
The Campus Fellows program started in January 2022 with four students at four different universities. We've had fellows on nine different campuses, with more than one fellow at several locations, including: UNC-Wilmington, Appalachian State, UNC-Greensboro, NC A&T, UNC, NC Central, NC State, ECU, and UNC-Wilmington.
Each Campus Fellow works with our organizers to conduct outreach on their campus around major issue campaigns. Our fellows have focused on stopping forever chemical (PFAS) pollution, promoting environmental justice, and opposing Duke Energy rate hikes. In addition, our fellows pivot to non-partisan Get-Out-the-Vote work around elections in the state, with particular focus on informing students about where and when to vote early. The Campus Fellows' actions include planning events, speaking to classes, tabling on campus, and finding ways to collaborate with local allies and volunteers.
In four semesters of the program, our Campus Fellows have:
Collected over 10,000 petition signatures on campaigns such as environmental justice, forever chemicals, and energy policy,
Worked with more than 70 different community and campus organizations,
Hosted or attended over 200 events and speaking engagements,
Engaged students about voting with peer texting and non-partisan voter guides.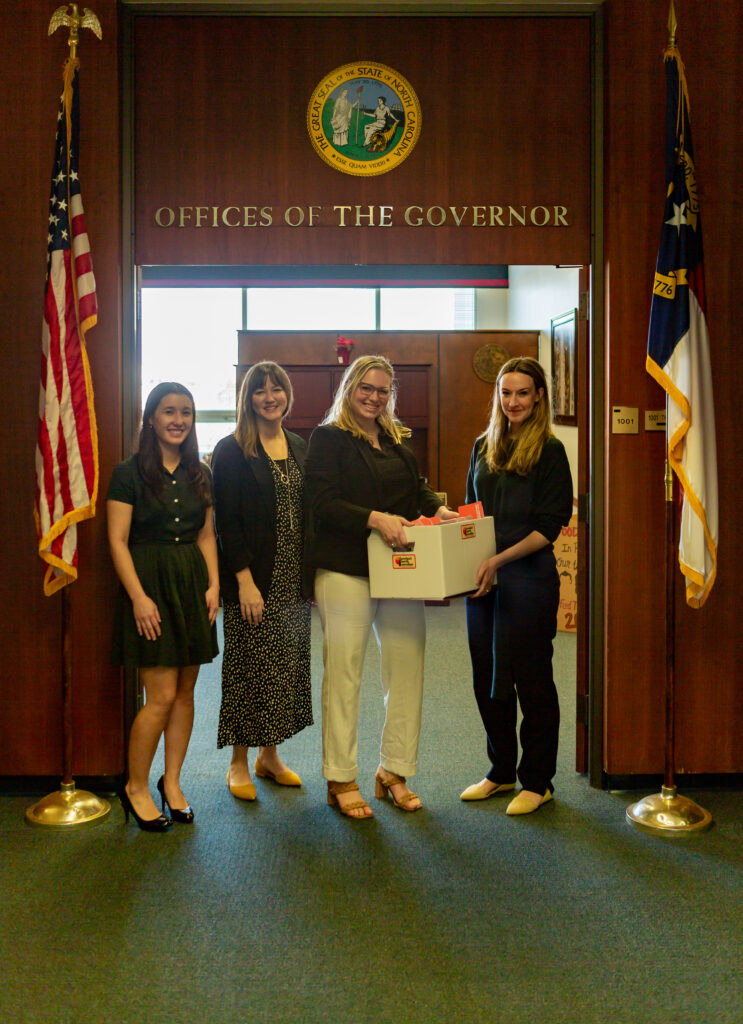 In addition, alumni of the program are continuing to do important work, including positions such as Regulatory Analyst at NC Dept. of Environmental Quality, Vegan Program Coordinator at the Food Empowerment Project, and Conservation Fellow for the Conservation Corps.
In 2024, we hope to be working with as many as 30 Campus Fellows and expect to expand our program to additional universities, including UNC-Pembroke, Fayetteville State, Winston-Salem State, and Western Carolina University. We'll continue to work on critical issue campaigns and our fellows will conduct our largest ever Get-Out-the-Vote program. We also hope to hire some of the alumni of the Fellows Program to help us organize across the state and lead a new batch of Campus Fellows.
Interested in applying or know a student who might be interested in becoming a Campus Fellow? ONLINE APPLICATION
Want to support the Fellows Program and mission of NC Conservation Network: DONATE TODAY